2020 AJSA National Classics

Start planning to attend the 40th Anniversary of the 2020 AJSA National Classic!

Hotel information:

Hotel headquarters for the 2020 Junior National Simmental Classic in Grand Island, NE
Boarders Inn & Suites Grand Island, NE
3333 Ramada Road, Grand Island, NE
Please call to reserve your room at 308-384-5150 and ask for the Simmental block.
Group Rate: $99.00 plus tax

2nd hotel- you can book online with this hotel
Ramada Midtown
2503 South Locust St.
Grand Island, NE 68801
308.384-1330- mention 2020 Junior Simmental block
$101.95 + tax - the Cutoff date is June 7, 2020.

3rd Hotel:
Holiday Inn Express & Suites
Block Name: Simmental Classic
Group Rate: $149.95 plus tax for 2 Queen Beds
2018 IHG Torchbearer Award Winner
* Cut Off Date of May 15th, 2020
308-675-1118

2019 National Classic Wrap-up!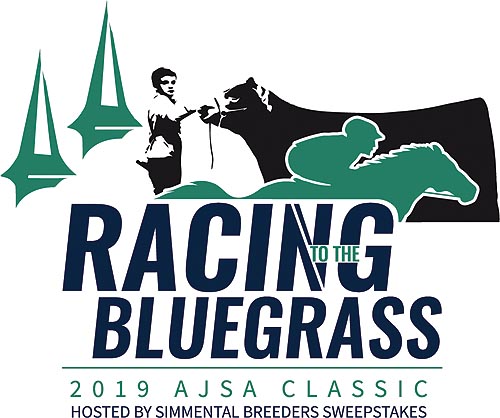 National Classic Promotes Breed, Primes Future Generation
Real-world genetics and youth development meet at Simmental's premier junior show.
More than a stock show, the recent American Junior Simmental Association (AJSA) National Classic is about building the future of the agriculture industry – all the while furthering demand for the Simmental breed.
Announcing
AJSA Board of Trustees 2019-2020
North Central Region: Martha Moenning- MN and  Clay Sundberg- IL (President)
South Central Region: Kennedy Early- MO and Teegan Mackey- TX
Eastern Region:  MS Luke Harker- IN and  Cara Smith- NC
Western Region: Sydney Schwenk- OR
Click here for the AJSA Board of Trustees
---
The 2019 Merit Award Winners 
Gold Merit Scholarship Winners:
Ethan Sylvester, Wamego, Kansas; Cody Long, Creston, Iowa; Kaitlin Houck, Americus, Kansas; Bennett Walther, Centerville, Indiana; Cole Liggett, Dennison, Ohio
 Left to right: Lori Eberspacher, Mark Smith, Tonya Phillips, Emily Brinkman, Holi Hatmaker, Bennett Walther, Kaitlin Houck, Cole Liggett, Scott Cowger, and Greg Burden
Silver Merit Scholarship Winners:
Tyler Diffey, Lexington, MS; Kennedy Early, Leeton, MO; Cody Eberhardt, Wheatland, CA; Lauren Glick, La Prairie, IL; Luke Harker, Hope, IN; Luke Herr, Arcadia, IN; Shaylee Ison, Atlanta, IN; Whitney Olsen, Alexandria, MN; Paige Peine, Hastings, MN; Cara Smith, Pleasant Garden, NC; 
Clay Sundberg, Arlington, IL.
Left to right: Left to right: Lori Eberspacher, Mark Smith, Tonya Phillips, Emily Brinkman, Holi Hatmaker, Clay Sunberg, Cara Smith, Kennedy Early, Lauren Glick, Tyler  Diffrey, Luke Harker, Scott Cowger, and Greg Burden
Congratulations!
SPC Registration
SPC Informational Webinar - Watch it now!
Click for information and to register your animals for the Steer Profitability Competition. The registration deadline is October 11.