Regional and National Classic Hotel Info
Eastern Region Hotel Lodging Information
Host Hotel
Country Inn & Suites
1151 S. Jefferson Ave
Cookeville, TN 38506
931-525-6668
Rate: $90 for room
Rate: $96 for Queen Suite or Junior Suite
Block expires 5/21/21
Quality Inn 
970 S Jefferson Ave
Cookeville, TN 38501
931-526-7125
Rate:  $68 (CAUTION) This hotel will be under some heavy construction during our dates.
Block Expires May 1, 2021
Comfort Inn & Suites
1045 Interstate Drive
Cookeville, TN 38501
931-372-0086
Rate:  $84
Block Expires April 1, 2021
Fairfield Inn
1200 Sam's Street
Cookeville, TN 38506
931-854-1050
Rate:  $99
Block expires 5/11/21
Hampton Inn
1025 Interstate Drive
Cookeville, TN 38501
931-651-1500
(American Junior Simmental Association)
Rate: $109 plus taxes
Block expires 5/10/21
Hotels are filling fast.
State Fair Campgrounds At Fonner Park
Offering 130 camping locations on the NORTH side of the property, along Fonner Park Road.

Please call Janna at 308-385-3925 for Reservations.
---
South Central Region Hotel Lodging Information
Holiday Inn and Suites
2720 S. Glenstone Ave
Springfield, MO 65803
Group Code: OEF

Block Dates: 06/08/2021 – 06/12/2021
Rate: $82.00 per night
Book here.
Camping is available at the Ozark Empire Fairgrounds.
30 Amp Sites - $30 per night
50 Amp Sites - $35 per night
**To reserve a camping spot, please call Paul Eck at 417-833-2660
---
Western Region Hotel Lodging Information
Best Western Plus 208-255-4500 Ponderay, ID
Ruby's    208-263-5383  Ponderay, ID
Events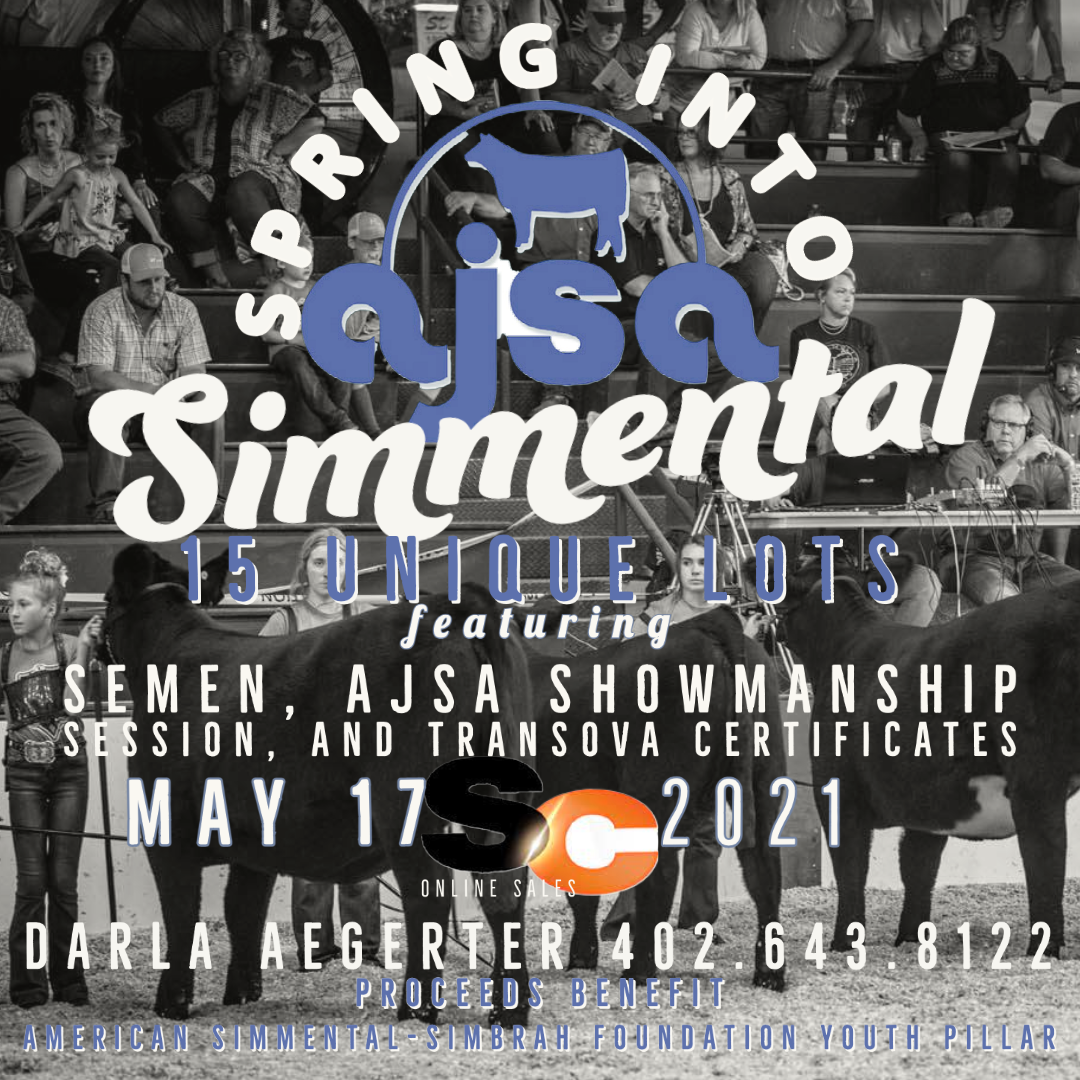 AJSA Spring into Simmental Online Sale with SC Online Sales
    Monday, May 17 - 15 unique lots, AJSA Apparel Basket, Showmanship session, Semen packages, and much, much more! All proceeds benefit the American Simmental-Simbrah Foundation - Youth Pillar.  Bid here.
---
5th Annual Simmental ~ Simbrah Foundation Breeders Cup Golf Tournament - June 28, 2021, Indianhead Golf Club, Grand Island, NE.
Frequently Asked Questions (FAQs) 2021 AJSA Regional and National Classics
National Classic and Regional Dates
National Classic, Grand Island, NE - June 26 - July 2, 2021  Schedule
Eastern Regional, Cookeville, TN - June 2-5, 2021    Schedule
South Central Regional, Springfield, MO - June 9-12, 2021   Schedule
Western Regional, Sandpoint, ID - June 16-19, 2021     Schedule